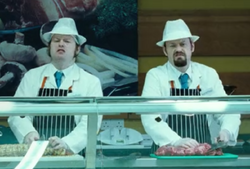 Butcher brothers
Butcher brothers
The Butcher brothers are a pair of brothers that work as butchers at Sandford's supermarket, Somerfield, as well as the operators of the local breakdown lorry.
The pair are first seen during Police Sergeant Nicholas Angel's first jog around Sandford. They are seen inside the breakdown lorry, where they wave and grunt at Angel. PS Angel then sees them when he visits Somerfield with Police Constable Danny Butterman.
The Butcher brothers are most active during the Sandford shootout, in which they pin down the Sandford Police Service after they storm Somerfield. However, the Sandford Police Service ram the butchers' counter with a line of shopping carts, breaking the counter and pinning the brothers against the wall.