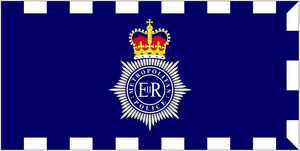 The Metropolitan Police Service is the Police Service for London.
Information
The Metropolitan Police Service (MPS) is the territorial police force responsible for Greater London, excluding the "square mile" of the City of London which is the responsibility of the City of London Police. The MPS also has significant national responsibilities such as co-ordinating and leading on counter-terrorism matters and protection of the Royal Family of the United Kingdom and senior figures of HM Government.
At the end of February 2010, the MPS employed 52,111 personnel. This includes 33,258 sworn police officers and 4,226 Special Constables, 14,332 civilian police staff, and 4,520 non-sworn Police Community Support Officers. This makes it the largest police force within the United Kingdom by a significant margin. The Commissioner of Police of the Metropolis, known commonly as Commissioner, is the overall operational leader of the force, responsible and accountable to the Metropolitan Police Authority. The post of Commissioner was first held jointly by Sir Charles Rowan and Sir Richard Mayne. The Commissioner since 27 January 2009 is Sir Paul Stephenson, QPM who had previously been the Acting Commissioner since 1 December 2008.
A number of informal names and abbreviations exists for the Metropolitan Police Service, such as "the Met", "Met Pol", "MP" and "the MPS". In statutes it is referred to in the lower case as the "metropolitan police force" or the "metropolitan police", without the appendage "service". The MPS is also referred to as Scotland Yard after the location of its original headquarters buildings in and around Great Scotland Yard, Whitehall. The current headquarters of the MPS is New Scotland Yard.
Known Members